NOTE: We've guessed that you're not using a client that supports colored tables and have tried to compensate. Low graphics mode looks much better on clients that do... we recommend switching to Netscape 3.0 or Microsoft Internet Explorer.
.
Public Awareness
satellites and hurricane hunters
In the early part of this century, coastal residents may have had less than a day to prepare or evacuate their homes from an oncoming hurricane. Today, these same locations receive warnings to evacuate from one to two days in advance, let alone the extra days they are also aware of its existence. Before satellites and radars, people had very little knowledge of the weather just 100 kilometers offshore.
Obviously it is a vastly different world today. Thanks to satellites, we know about the existence of a tropical cyclone immediately. Meteorologists at the Tropical Prediction Center work to constantly monitor these systems as they move, issuing hurricane watches and warnings (definitions of which are placed below) with adequate time for the public to prepare.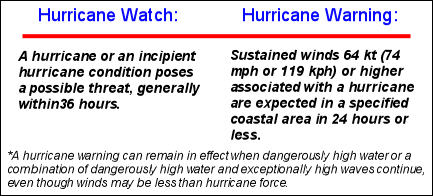 Meteorologists and the public also rely on hurricane hunters to learn more about the hurricane. They do this by flying aircraft equipped with weather instruments straight into the middle of these powerful storms. Hurricane hunters are operated by both the Air Force Reserve based at Keesler Air Force Base in Mississippi and the National Oceanic and Atmospheric Administration (NOAA). The two have a long history, making their first flights in 1944. Before satellites were put in space, these planes were the best and sometimes only source of information about a hurricane's position and intensity. When a hurricane hunter airplane is set to fly into a tropical storm or hurricane, it is ready for a long mission. Most commonly, one plane will be in the air for about 11 hours. Scientists on the plane relay the data they collect immediately to the Tropical Prediction Center for analysis.
[Image: (112K)]
Image by: U.S. Air Force
Air force reserve hurricane hunters use the WC-130H aircraft seen above to make their flights, while NOAA crews use the WP-3D and GIV-SP. As dangerous as it seems, the hurricane hunters have an extremely clean safety record. A normal crew consists of six: a pilot, co-pilot, navigator, flight engineer, aerial reconnaissance weather officer, and dropsonde system operator.
---
| | | |
| --- | --- | --- |
| movement | | public action |