Cyclones
an idealized model
A cyclone is an area of low pressure around which the winds flow counterclockwise in the Northern Hemisphere and clockwise in the Southern Hemisphere.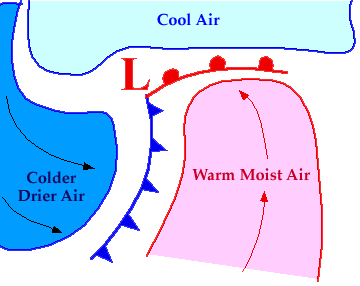 A developing cyclone is typically accompanied by a warm front pushing northward and a cold front pulling southward, marking the leading edges of air masses being wrapped around a center of low pressure, or the center of the cyclone.
The counterclockwise winds associated with northern hemisphere midlatitude cyclones play a significant role in the movement air masses, transporting warm moist air northward ahead of a low while dragging colder, drier air southward behind it.
[Image: low pressure animation (53K)]
** Press "Reload" to restart the animation **
Rising air in the vicinity of a low pressure center favors the development of clouds and precipitation, which is why cloudy weather (and likely precipitation) are commonly associated with an area of low pressure. Cyclones are easily identifiable on certain types of weather maps by remembering some key signatures. For example, a cyclone can be found on a map of surface observations by recognizing a counterclockwise rotation of the wind barbs for a group of stations, while on satellite images, cyclones are identifiable by the trademark comma shaped configuration of cloud bands.
---
| | | |
| --- | --- | --- |
| introduction | | associated winds |