NOTE: We've guessed that you're not using a client that supports colored tables and have tried to compensate. Low graphics mode looks much better on clients that do... we recommend switching to Netscape 3.0 or Microsoft Internet Explorer.
.
Snow
an aggregate of ice crystals
Progressing even further away from the warm front, surface temperatures continue to decrease and the sleet changes over to snow.
Snowflakes are simply aggregates of ice crystals that collect to each other as they fall toward the surface. The diagram below shows a typical temperature profile for snow with the red line indicating the atmosphere's temperature at any given altitude. The vertical line in the center of the diagram is the freezing line. Temperatures to the left of this line are below freezing, while temperatures to the right are above freezing.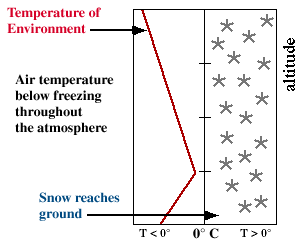 Since the snowflakes do not pass through a layer of air warm enough to cause them to melt, they remain in tact and reach the ground as snow.
---
| | | |
| --- | --- | --- |
| sleet | | El Nino |