NOTE: We've guessed that you're not using a client that supports colored tables and have tried to compensate. Low graphics mode looks much better on clients that do... we recommend switching to Netscape 3.0 or Microsoft Internet Explorer.
.
Interpreting Surface Observation Symbols
scaffolding activity teacher's guide
1)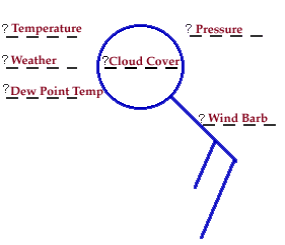 2) 62 degrees Fahrenheit
3) 27 degrees Fahrenheit
4) 1011.8 millibars (mb)
5) Overcast (100%)
6) Light snow
7) Winds out of the east at 15 knots
8) Working with current weather data, so no answer key is available.
---
| | | |
| --- | --- | --- |
| universal time coord | | weather symbols |