NOTE: We've guessed that you're not using a client that supports colored tables and have tried to compensate. Low graphics mode looks much better on clients that do... we recommend switching to Netscape 3.0 or Microsoft Internet Explorer.
.
Mie Scattering
giving clouds their white appearance
Another type of scattering (called Mie Scattering) is responsible for the white appearance of clouds.
[Image: white clouds over a canyon (72K)]
Photograph by Ron L. Holle

Mie scattering occurs when the wavelengths of visible light are more or less equally scattered.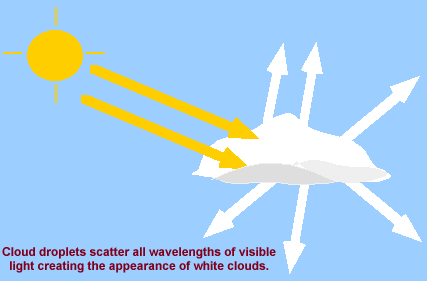 Clouds appear white when cloud droplets effectively scatter all wavelengths of visible light in all directions.
---