NOTE: We've guessed that you're not using a client that supports colored tables and have tried to compensate. Low graphics mode looks much better on clients that do... we recommend switching to Netscape 3.0 or Microsoft Internet Explorer.
.
Cyclones
an idealized model
A cyclone is an area of low pressure around which the winds flow counterclockwise in the Northern Hemisphere and clockwise in the Southern Hemisphere.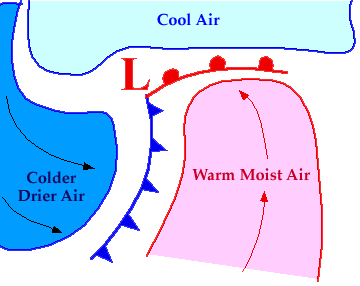 A developing cyclone is typically accompanied by a warm front pushing northward and a cold front pulling southward, marking the leading edges of air masses being wrapped around a center of low pressure, or the center of the cyclone.
---