.
Veterans Day Lake Effect Snowstorm
November 9-14, 1996 in the Great Lakes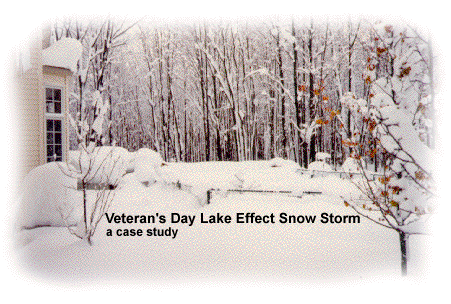 Photograph by: Emiel and Sylvie Bon; Chardon, Ohio.
The Veteran's Day storm of November 9-14, 1996 may be the most severe early season lake effect snow (LES) storm the Great Lakes has witnessed in the past fifty years. At the height of the storm, over 160,000 customers were without power in Greater Cleveland alone, as the storm produced isolated snowfall tallies approaching 70". As usual with these LES events, the Veteran's Day storm battered snowbelt communities downwind of each of the Great Lakes while nearby towns went unscathed. The following case study presents weather maps, images, photographs, text, and annotations that document the history and evolution of this storm. Much of the discussion focuses on NE Ohio, but regional and national analyses are included in the review.
Sections
Last Update: 09/04/97
A Personal Perspective
Newspaper clippings, photographs and a detailed eyewitness log from those who endured the storm.

Data and Analysis
Archived images vital to this case study, including upper-air maps, surface maps, Doppler radar images and cross-sections.

Advanced Topics
A more rigorous analysis of the storm.

Acknowledgements
Those who contributed to the development of this case study.
---