.
Maximum temperatures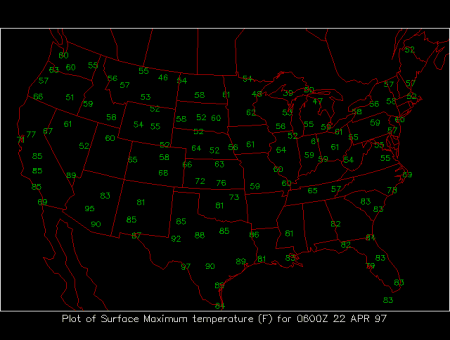 24-hour Maximum Surface Temperatures
This meteorological surface chart shows the maximum temperatures during a 24 hour period prior to 0600Z of the date shown in the upper right hand corner. The maximum temperatures are displayed in degrees Fahrenheit at chosen surface stations.
This map should roughly resemble the current temperature map, but significant differences will arise from quick moving storm systems, as well as from a variable amount of the local daily solar heating. Dry, clear conditions, characteristic of a continental airmass, allow persistent solar radiation to heat the surface, while cloudy conditions block the solar radiation from reaching the surface. Solar heating is most effective during the summer, in absence of cold air advection. Cold advection can offset the effects of solar heating, especially during the winter. Large diurnal variations (daily differences between daytime high and nighttime low temperatures) occur on clear, dry days. Generally maximum temperature occurs in the early afternoon, when solar heating is most intense. However, high temperatures can occur at unusual times of the day or night, due to cold and warm surface fronts passing through the region.
---
| | | |
| --- | --- | --- |
| Surafce Maps | | minimum temps |