Photographs from Chardon, Ohio
November 9-14, 1996 in the Great Lakes
The following pictures were scanned from photographs provided by Emiel and Sylvie Bon who live in the northern end of Chardon, Ohio. The photos were taken on November 12 and 13th, 1996.

Photograph by: Emiel and Sylvie Bon
Nearly 70" of snow fell in downtown Chardon which is about 3-4 miles south of this location. We estimated that there was a significant reduction in total snowfall between Emiel and Sylvie's home and the town center - perhaps 10 or 20%. This is due to the rapid change in elevation between these two points. Chardon is one of the highest elevations in NE Ohio.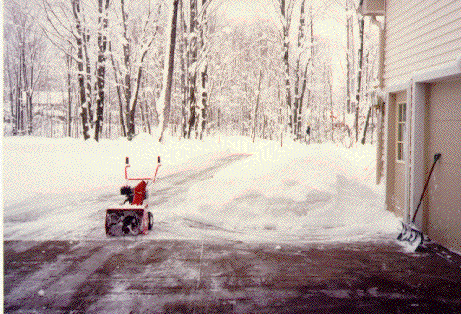 Photograph by: Emiel and Sylvie Bon
Downed trees and power lines posed a problem throughout the storm. The number of homes without power was very high - worse yet, the prolonged snowfall prevented utility workers from bringing people back on-line. There were numerous reports of homes without electric power for 3-5 days.

Photograph by: Emiel and Sylvie Bon
Although Chardon had the most snowfall in the region, there was less damage to trees and property compared to locations nearer the lake shore. This is likely due to the colder air temperatures found at locations with higher elevations (i.e. a dryer snowfall) and well away from the lake shore. Conversely, damage in both Cuyahoga and Lake counties was severe as the lower elevation and proximity to the warm lakes resulted in a wetter heavier snowfall that was more likely to stick to trees and roofs. Several structures did collapse in the lakeshore area - most notably a church in Lake county and a lumber business in Kirtland, which collapsed on Wednesday Nov 13,1996.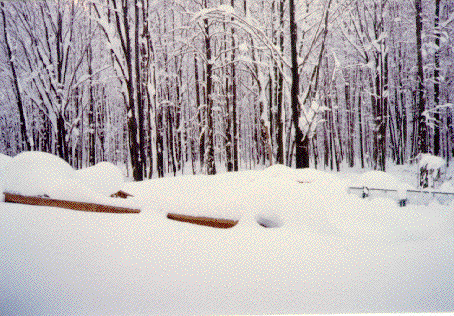 Photograph by: Emiel and Sylvie Bon
The top of the railing in this picture is approximately 3.5 feet high. One should distinguish between total snowfall and snowfall reported on the ground at any one time. The greatest snow depth recorded in this storm was around 48". Snow compaction, settling, melting, and evaporation from above and below are the reasons for the discrepancy between snowfall and snow depth.
---
| | | |
| --- | --- | --- |
| newspaper clippings | | Shaker Hts, Ohio |