Photographs from Shaker Hts., Ohio
November 9-14, 1996 in the Great Lakes
The following pictures were scanned from photographs provided by Lorra Laven (see second photograph) who lives in Shaker Hts, Ohio in eastern Cuyahoga county. The photos were taken on November 10,13 and 14th, 1996. Lorra has also provided an entertaining and thorough eyewitness log of this case study.

Photograph by: Lorra Laven
The wet snowfall from a cyclone on Nov 9-10, 1996 and the subsequent heavy LES event, devastated trees and shrubs in the "Heights" suburbs east & southeast of Cleveland, Ohio. The clean-up costs in Shaker Hts. alone were estimated at $ 2.5 million dollars - the cleanup is nearly complete as of early July, 1997.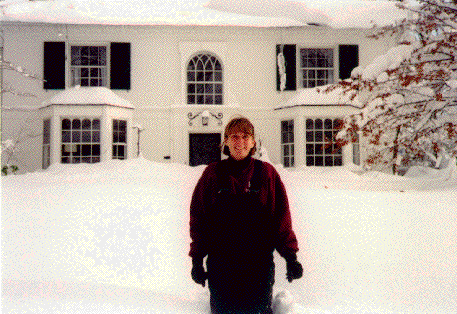 Photograph by: Lorra Laven
There were many trees which suffered the same fate as pictured below. Instead of losing individual branches or uprooting - the tree literally split down the main trunk, opening like an "ear of corn".

Photograph by: Lorra Laven
Snowfall in Shaker Hts. was estimated by spotters at about 50" with perhaps 36-38" on the ground at any one time. The snow fell in intense bands with variable breaks between bands. Bright sunshine was intermittently observed on the first four days of the storm - as was thunder and lightning! The greatest one-hour accumulation reported from this location was 3.5" on Monday evening Nov 11, 1996.

Photograph by: Lorra Laven
The consistency of the snowfall was denser compared to typical lake-effect snow. The lake was very warm in this early season storm and surface temperatures never fell much below freezing. Denser frozen precipitation particles such as snow grains, graupel, and snow pellets (a dense aggregate of snow crystals and graupel) were all common during the storm suggesting the clouds contained an unusually high amount of liquid water and possibly very strong updrafts (compared to other lake-effect storms).

Photograph by: Lorra Laven
---
| | | |
| --- | --- | --- |
| north chardon, ohio | | Eyewitness Log |