Tuesday November 12, 1996
radar imagery
On Monday evening (November 12, 1996 01Z) strong lake effect snowbands have reenergized on the NE Ohio lakeshore. This was a night of very heavy snow in the north half of Geauga County where the town of Chardon is located. Little snow was received west of downtown Cleveland or at Cleveland Hopkins Airport where the National Weather Service (NWSFO) is located. The main band forms (according to the first appearance of low reflectivity) just beyond the western basin of Lake Erie and continues inland to northern Trumbull County near Youngstown (and beyond). This straight band is often associated with heavier snowfall and higher reflectivity cores compared to bands with some curvature.
The National Lightning Detection System (NLDS) data was analyzed during this period. Very few lightning strokes were detected during this period - these were mostly over the lake near Lost Nation Airport in Lake County. However, it is believed that in this storm lightning strokes were mostly cloud-to-cloud (CC) or in-cloud (IC) and were not detected by NLDS since local observers and spotter reports of lightning and thunder during this evening were so widespread.
By the afternoon of November 12, a similar pattern as the previous day has taken shape. "Benard" cells (Benard cells tend to be circular, random, and smaller in scale compared to lake snowbands) have redeveloped through the region with some weaker LES bands developing near the eastern shores of Lake Erie.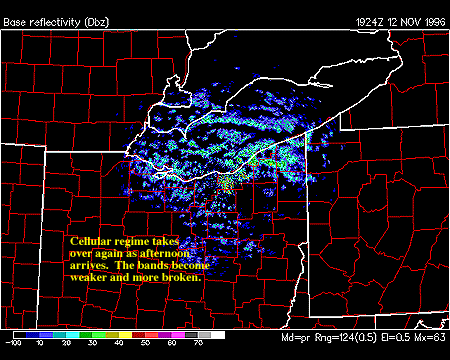 A zone of cell-free radar volume is found in the SE quadrant of the radar display; i.e. on a line from Cleveland (CLE) to near Zainesville (ZZV). One possible explanation for this lack of cellular convection, may be existing snowcover in this region. Snowcover will inhibit heating of the ground and will help to stabilize the lower surface and mixed layer in this area. Stronger returns are found in NE Ohio where the snowcover is extensive - but, this is not a result of local ground heating processes; instead, these are generated through interaction with Lake Erie.
---
| | | |
| --- | --- | --- |
| Nov 11, 1996 | | Nov 13, 1996 |