NOTE: We've guessed that you're not using a client that supports colored tables and have tried to compensate. Low graphics mode looks much better on clients that do... we recommend switching to Netscape 3.0 or Microsoft Internet Explorer.
.
Observed Winds
represented by wind barbs
The symbol highlighted in yellow (in the diagram above) is known as a "Wind Barb". The wind barb indicates the wind direction and wind speed.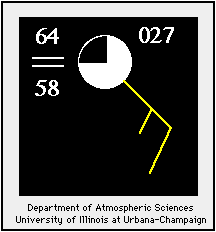 ---