NOTE: We've guessed that you're not using a client that supports colored tables and have tried to compensate. Low graphics mode looks much better on clients that do... we recommend switching to Netscape 3.0 or Microsoft Internet Explorer.
.
Observed Sea Level Pressure
station reporting symbol
The value highlighted in yellow located in the upper right corner (in the diagram above) represents the last three digits of the observed pressure reading in millibars (mb).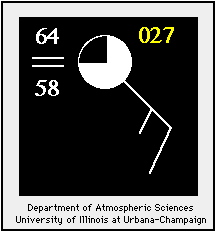 ---