NOTE: We've guessed that you're not using a client that supports colored tables and have tried to compensate. Low graphics mode looks much better on clients that do... we recommend switching to Netscape 3.0 or Microsoft Internet Explorer.
.
Occluded Front
when a cold front overtakes a warm front
As the storm intensifies, the cold front rotates around the storm and catches the warm front. This forms an occluded front, which is the boundary that separates the new cold air mass (to the west) from the older cool air mass already in place north of the warm front. Symbolically, an occluded front is represented by a solid line with alternating triangles and circles pointing the direction the front is moving. On colored weather maps, an occluded front is drawn with a solid purple line.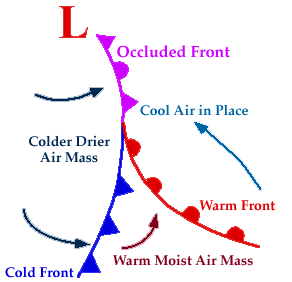 ---