NOTE: We've guessed that you're not using a client that supports colored tables and have tried to compensate. Low graphics mode looks much better on clients that do... we recommend switching to Netscape 3.0 or Microsoft Internet Explorer.
.
Freezing Rain
freezes on impact with a cold surface
Ice storms can be the most devastating of winter weather phenomena and are often the cause of automobile accidents, power outages and personal injury. Ice storms result from the accumulation of freezing rain, which is rain that becomes supercooled and freezes upon impact with cold surfaces. Freezing rain is most commonly found in a narrow band on the cold side of a warm front, where surface temperatures are at or just below freezing.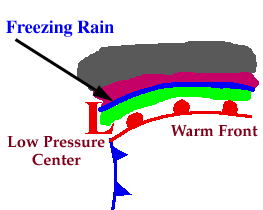 ---