Union City Tornado of 1973
low level air flow highlighted
The first of three photos of the Union City, Oklahoma, tornado of 1973 has warm inflow and cool rear flank downdraft (RFD) outflow arrows superimposed to help clarify the low-level airflow around a tornado.

Photograph by: Tegtmeier
Note inflow wrapping into the tornado from the southeast, east, and northeast. We are looking west-northwest from about 10 miles. A clear slot is becoming visible behind the subtle outflow lowering.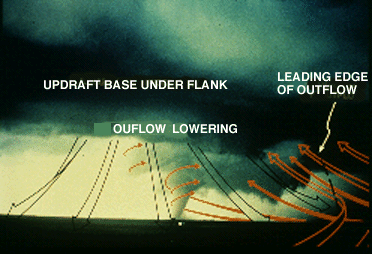 Photograph by: Tegtmeier
A few minutes later, the clear slot becomes more obvious, as does the weak shelf-like outflow cloud at the base of the flanking line. This is during the tornado's mature stage, and the twister's warm inflow is about to be cut off by the left-to-right advancing cold RFD outflow.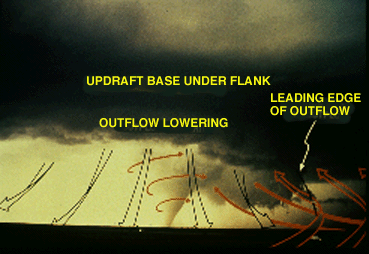 Photograph by: Tegtmeier
Near the end of the mature stage, we have a spectacular view of the clear slot wrapping around the east side of the tornado. The gust front continues to advance and virtually has isolated the tornado from the rest of the storm. The Union City storm was not cyclic, and it weakened rapidly when the tornado dissipated about 10 minutes after this photograph was taken.
---