More Tornadoes
produced by cyclic storms
Yet another cyclic storm, looking towards the northwest. Visibilities and contrast were low in this northern Kansas storm, but we can make out a distant, rope-like tornado just left of center (about 6 miles to our west-northwest, and a wall cloud and developing funnel on the extreme right, about 3 miles to the north-northwest.

Photograph by: Moller
Minutes later, tornado #2 has touched down to our north-northwest whereas tornado #1 has lifted. This second tornado was producing significant damage at this time.

Photograph by: Moller
Moving closer, we are looking north from within 1/2 mile at tornado #2. It was changing rapidly in appearance as it quickly evolved into a large multiple vortex tornado. The huge vortex to the right of the road developed and dissipated within a minute, as another sub-vortex was forming to the left of the road. The tornado had become violent and leveled several farms. Early warnings were provided by excellent spotter reports.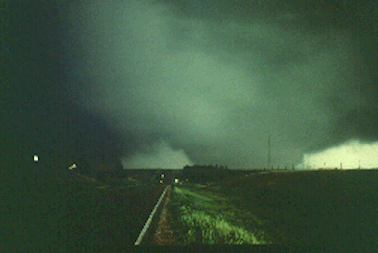 Photograph by: Moller
Below is a storm which seemed to defy most of what we have said about cyclic storms! Looking north, note tornado #1 (with clear slot) at the south end of the precipitation area, tornado #2 east of the precipitation (extreme right), and wall cloud/developing tornado #3 in the visual distance between #1 and #2, and northeast of the precipitation area!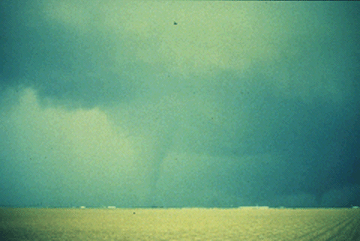 Photograph by: NSSL
Thus, instead of a 20 minute gap we have concurrent mesocyclones on three different thunderstorm flanks! There are always exceptions to just about any "rule of thumb" we can make about severe thunderstorms.
---
| | | |
| --- | --- | --- |
| introduction | | Modeling |