.
Snowfall Totals
from the national weather service in Cleveland
The following images show the hand-drawn map of total storm snowfall from November 9-14, 1996 provided by the National Weather Service in Cleveland, Ohio (to gauge the scale of this map, the distance between Shaker Hts. and Chardon is about 18 miles). Officially Cleveland Hopkins Airport received nearly 20" of snow while nearby Akron-Canton regional airport received a bit over 2" for the entire storm. This storm impacted the entire primary snowbelt of NE Ohio, not to mention nearly every town in the Great Lakes prone to lake-effect storms.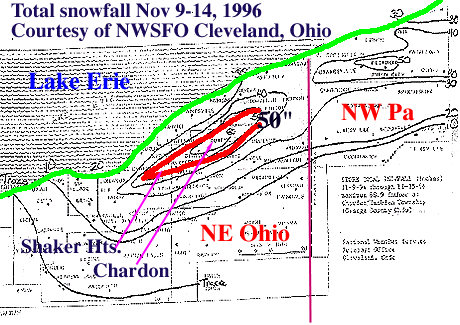 Image by: NWSFO Cleveland, OH


Normally, LES events provide snowfall with a very low moisture content - perhaps a 20 or 30 to 1 ratio of snowfall to melted water equivalent. In this case, with surface temperatures not far from freezing the snow to water ratio were closer to 10:1 which makes the spotter and official reports even more impressive. This map was constructed from thes official and spotter total snowfall reports. Another method of estimating snowfall is through Doppler radar and the relationship between snowfall and reflectivity (the so-called Z-S relationship).
---
| | | |
| --- | --- | --- |
| Data and Analysis | | radar estimated |