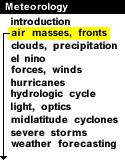 .
Warm Front
transition zone from cold air to warm air
A warm front is defined as the transition zone where a warm air mass is replacing a cold air mass. Warm fronts generally move from southwest to northeast and the air behind a warm front is warmer and more moist than the air ahead of it. When a warm front passes through, the air becomes noticeably warmer and more humid than it was before.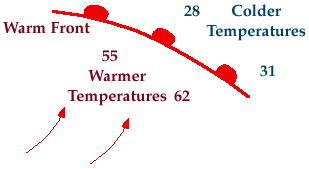 Symbolically, a warm front is represented by a solid line with semicircles pointing towards the colder air and in the direction of movement. On colored weather maps, a warm front is drawn with a solid red line.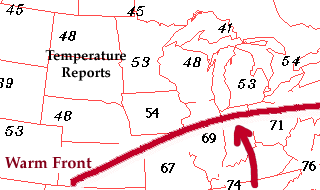 There is typically a noticeable temperature change from one side of the warm front to the other. In the map of surface temperatures below, the station north of the front reported a temperature of 53 degrees Fahrenheit while a short distance behind the front, the temperature increased to 71 degrees. An abrupt temperature change over a short distance is a good indication that a front is located somewhere in between.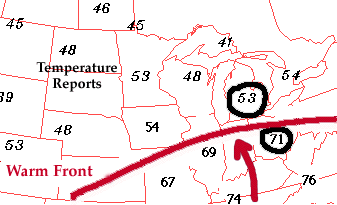 If warmer air is replacing colder air, then the front should be analyzed as a warm front. If colder air is replacing warmer air, then the front should be analyzed as a cold front. Common characteristics associated with warm fronts have been listed in the table below.
| | | | | | | |
| --- | --- | --- | --- | --- | --- | --- |
| | | Before Passing | | While Passing | | After Passing |
| Winds | | south-southeast | | variable | | south-southwest |
| Temperature | | cool-cold, slow warming | | steady rise | | warmer, then steady |
| Pressure | | usually falling | | leveling off | | slight rise, followed by fall |
| Clouds | | in this order: Ci, Cs, As, Ns, St, and fog; occasionally Cb in summer | | stratus-type | | clearing with scattered Sc; occasionally Cb in summer |
| Precipitation | | light-to-moderate rain, snow, sleet, or drizzle | | drizzle or none | | usually none, sometimes light rain or showers |
| Visibility | | poor | | poor, but improving | | fair in haze |
| Dew Point | | steady rise | | steady | | rise, then steady |
Table adapted from: Ahrens, (1994)
---
| | | |
| --- | --- | --- |
| Cold Front | | wind shift |