.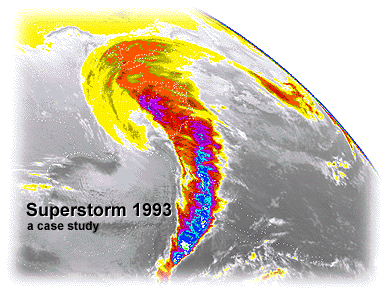 One of the most intense nor'eaters to ever strike the Eastern United States did so in the second week of March, 1993. Record low pressures, wind speeds, low temperatures and snowfall amounts were more than enough for this storm to gain the status of "Storm of the Century" even during its existence. Indeed, this storm was monumental, killing over 250 people and cancelling 25% of the United States' flights for two days. The purpose of this case study is to provide background on this storm, using surface maps and satellite images to demonstrate its full scope.
Sections
Last Update: 09/13/97
Storm History
Snowfall, wind and other data from the storm.

Surface Products
A collection of surface maps covering the storm's lifetime.

Satellite Images
Satellite images illustrating the storm's impressive character.

Acknowledgments
Those who contributed to the development of this case study.
The navigation menu (left) for this module is called "superstorm '93 " and the menu items are arranged in a recommended sequence, beginning with this introduction. In addition, this entire web server is accessible in both "graphics" and "text"-based modes, a feature controlled from the blue "User Interface" menu (located beneath the black navigation menus). More information about the user interface options, the navigation system, or WW2010 in general is accessible from About This Server.
---
| | | |
| --- | --- | --- |
| Upper Air Images | | storm history |