NOTE: We've guessed that you're not using a client that supports colored tables and have tried to compensate. Low graphics mode looks much better on clients that do... we recommend switching to Netscape 3.0 or Microsoft Internet Explorer.
.
Maritime Tropical Air Masses
warm temperatures and rich in moisture
Maritime tropical air masses originate over the warm waters of the tropics and Gulf of Mexico, where heat and moisture are transferred to the overlying air from the waters below. The northward movement of tropical air masses transports warm moist air into the United States, increasing the potential for precipitation.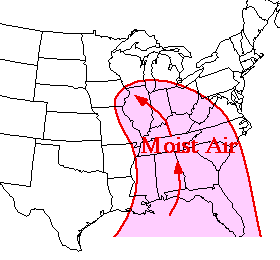 ---