NOTE: We've guessed that you're not using a client that supports colored tables and have tried to compensate. Low graphics mode looks much better on clients that do... we recommend switching to Netscape 3.0 or Microsoft Internet Explorer.
.
Low Precipitation Supercells
characteristics
Low-precipitation supercells probably rarely occur, if at all, east of the Mississippi River. They frequently produce large hail, funnel clouds, and wall clouds, and occasionally spawn weak or even strong tornadoes. Radar identification of the storm as a supercell is difficult, especially at great range, because of the relatively small size and dry nature of the storm. Similar to the classic supercell, but unlike the HP storm, severe weather usually occurs in the southwest quadrant of the LP storm.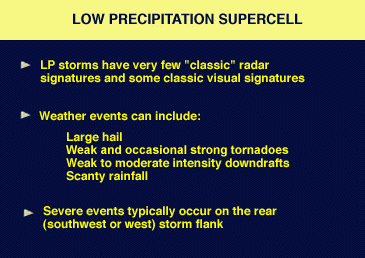 One last point of discussion for radar operators: spotters may report very wild visual sights and large hail with one of these storms while radar shows very little. Diplomacy, not disbelief, is important, for if you work severe weather in Texas, Oklahoma, Kansas, Nebraska, the Dakotas, or eastern portions of Colorado and Wyoming, you will encounter the LP supercell sooner or later.
---