NOTE: We've guessed that you're not using a client that supports colored tables and have tried to compensate. Low graphics mode looks much better on clients that do... we recommend switching to Netscape 3.0 or Microsoft Internet Explorer.
.
Wind Shift Across A Cold Front
from south-southwest to west-northwest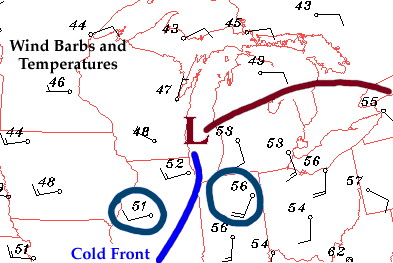 A sudden change in wind direction is commonly observed with the passage of a cold front. Before the front arrives, winds ahead of the front (in the warmer air mass) are typically out of the south-southwest, but once the front passes through, winds usually shift around to the west-northwest (in the colder air mass).
---