NOTE: We've guessed that you're not using a client that supports colored tables and have tried to compensate. Low graphics mode looks much better on clients that do... we recommend switching to Netscape 3.0 or Microsoft Internet Explorer.
.
Continental Polar Air Masses
cold temperatures and little moisture
Those who live in northern portions of the United States expect cold weather during the winter months. These conditions usually result from the invasion of cold arctic air masses that originate from the snow covered regions of northern Canada. Because of the long winter nights and strong radiational cooling found in these regions, the overlying air becomes very cold and very stable. The longer this process continues, the colder the developing air mass becomes, until changing weather patterns transport the arctic air mass southward.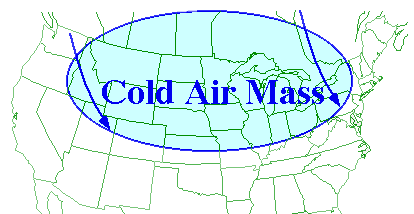 ---