From The Developers...
Using the archive tool can be a very useful way to navigate around in time. Just get accostumed to the controls and off you go!
To select a Product click on its picture.
The Archive Feature
WW2010 Current Weather Products
Selecting the archive button will make your viewer look something like this.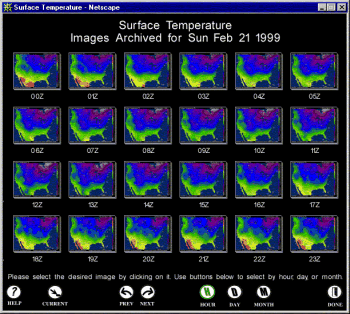 The thumbnails represent the most recent products. To select a product click on its picture. To navigate from day to day, use the PREV and NEXT buttons.
By selecting the MONTH button, the thumbnails now represent each day of the month in a calendar format. Navigating from month to month is again facilitated by the PREV and NEXT buttons. The YEAR button allows you to select each month of a year expeditiously.
The archive button-bar looks like this:

WW2010 WEATHER PRODUCT ARCHIVE BAR
The buttons each have functions -- each of which is listed below.
| | |
| --- | --- |
| | HELP: Provides WW2010 help to understanding the product being viewed. |
| | CURRENT: Displays the most recent set of maps of the product being viewed. |
| | PREVIOUS: Displays the previous series of maps in time of the product being viewed. (If available) |
| | NEXT: Displays the next set of maps in time of the product being viewed. (If available) |
| | HOUR: Places the archive in hour mode, where every available time is displayed. |
| | DAY: Places the archive in day mode, where one product per day is listed for a couple of weeks. |
| | MONTH: Places the archive in month mode, where you can select the month to view. |
| | DONE: Exits the archive and returns to the normal product viwer. |
---
| | | |
| --- | --- | --- |
| animate | | print |