.
Monticello, Illinois Tornado
photos from the chase, narration by Dr. Bruce Lee
Still on the track of the supercell that spawned the Jacksonville and Springfield tornadoes, the storm interceptors spotted another tornado under the cover of night near Monticello, Illinois. By this time, the tornadoes were getting dangerously close to home and at 7:55 PM, the National Weather Service issued its first tornado warning for Champaign county.
A lightning illuminated tornado several miles east of Monticello, Illinois as viewed from I-72 looking south at approximately 8:00 p.m.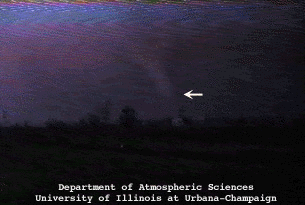 The tornado is about 4 miles south of our location and has narrowed considerably from our first visual contact when its estimated width exceeded 0.5 mile.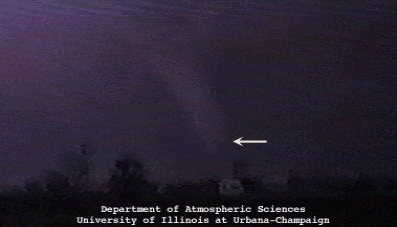 ---