Hurricane Andrew
august 16 - august 27, 1992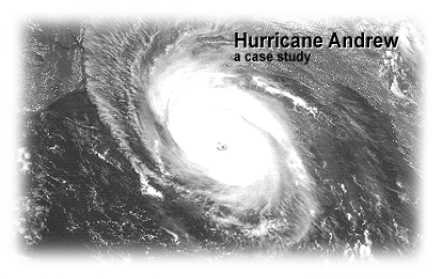 Andrew first became a tropical depression on August 16 and on August 17, became the first tropical storm of the season. The storm moved rapidly west and northwest during the next few days and on August 22 had reached hurricane strength. Landfall was made in southern Florida August 24th at approximately 5:00 am. Having become a Category 4 storm, the central pressure fell to 922 mb and wind gusts were estimated in excess of 175 m.p.h.. Andrew moved west at 18 m.p.h.
Once over the open waters of the Gulf of Mexico, a moderate intensfication ensued as the storm turned northwestward. August 26, Andrew made landfall again, this time in south central Louisiana, with a central pressure of 956 mb and sustained winds approaching 120 m.p.h.. The hurricane quickly weakened and became a depression 24 hours later, as it was turned sharply northeastward and merged with a frontal system over the eastern United States.
When all was said and done, Andrew was by far the most expensive natural disaster in history (up to that date), with estimated damages exceeding $20 billion. More than 60 people were killed and approximately 2 million people were evacuated from their homes.
Sections
Last Update: 09/13/97

Surface Products
A collection of surface maps covering the hurricane's landfall.

Satellite Images
Satellite images illustrating the hurricane's historical presence.

Acknowledgments
Those who contributed to the development of this case study.
---