.
Damage Left Behind in Ogden, IL
photos and captions by Norene McGhiey
At 9:02 p.m. on Friday April 19, 1996, the tiny town of Ogden and its 800 residents had their lives changed forever. A tornado with winds estimated around 160 m.p.h. roared through the tiny community toppling cars, uprooting trees and destroying homes. When it was over, more than 200 homes received major damage, 80 homes were completely destroyed and 13 people suffered minor injuries. This section provides an eye-witness view of Ogden, Illinois, after the storm.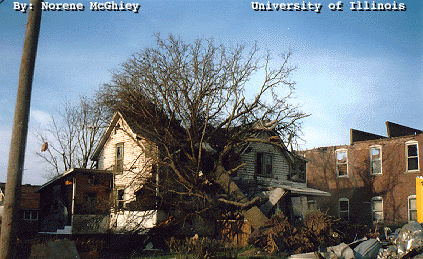 Image by: McGhiey
One-hundred year old house on Main Street located next to the Library. In fact, it was occupied by the librarian. Difficult to tell how beautiful the tree was, but one thing's for sure, the owner's cat was missing after the storm.
---