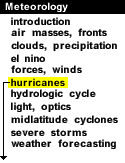 .
Destruction Caused by Hurricanes
saffir-simpson scale and dangerous features
Once a hurricane develops, the Saffir-Simpson Scale is used to classify a hurricane's damage potential. There are five possible categories, from 1-5.
Saffir-Simpson Hurricane Damage-Potential Scale
Scale Number


Category

Central Pressure


mb
inches

Wind Speeds


mi/hr
knots

Storm Surge


feet
meters

Observed
Damage

1
&gt=980

&gt=28.94

74-95

64-82

4-5

~1.5

some damage to trees, shrubbery, and unanchored mobile homes
2
965-979

28.50-28.91

96-110

83-95

6-8

~2.0-2.5

major damage to mobile homes; damage buildings' roofs, and blow trees down
3
945-964

27.91-28.47

111-130

96-113

9-12

~2.5-4.0

destroy mobile homes; blow down large trees; damage small buildings
4
920-944

27.17-27.88

131-155

114-135

13-18

~4.0-5.5

completely destroy mobile homes; lower floors of structures near shore are susceptible to flooding
5
&lt"920"

&lt"27.17"

&gt"155"

&gt"135"

&gt"18"

&gt"5.5"

extensive damage to homes and industrial buildings; blow away small buildings; lower floors of structures within 500 meters of shore and less than 4.5 m (15 ft) above sea level are damaged

Table from: Ahrens (1994)
In addition to the high winds associated with hurricanes, other components associated with these storms can inflict significant amounts of damage.
Flooding:
Heavy rains and ocean waters brought ashore by strong winds can cause flooding in excess of 50 cm (20 in) over a 24 hour period. The runoff systems in many cities are unable to handle such an increase in water because of the gentle topography common to many of the coastal areas where hurricanes occur.
Storm Surge:
An abnormal increase in the ocean's level, sometimes in excess of several meters high. Probably a hurricane's most devastating feature, storm surges ravage low-elevation coastal areas. It is especially damaging when the storm surge occurs during high tide and consequently, is often responsible for most hurricane-related deaths.
Tornadoes:
A number of theories exist about their origin, but in the case of Hurricane Andrew, severe damage was inflicted by small spin-up vortices that developed in regions of strong wind-shear found in the hurricane's eye wall. The strong winds of the hurricane frequently hide the smaller tornado paths, making it difficult to attribute damage caused by one or the other.
---
| | | |
| --- | --- | --- |
| development stages | | Hydrologic Cycle |