.
Cumulonimbus Clouds
reaching high into the atmosphere
Cumulonimbus clouds (Cb) are much larger and more vertically developed than fair weather cumulus. They can exist as individual towers or form a line of towers called a squall line. Fueled by vigorous convective updrafts (sometimes in excess 50 knots), the tops of cumulonimbus clouds can easily reach 39,000 feet (12,000 meters) or higher.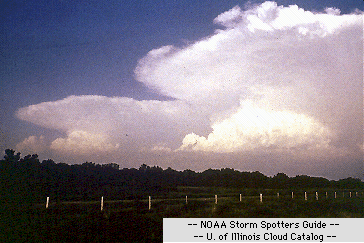 Photograph by: NOAA
Lower levels of cumulonimbus clouds consist mostly of water droplets while at higher elevations, where temperatures are well below 0 degrees Celsius, ice crystals dominate. Under favorable atmospheric conditions, harmless fair weather cumulus clouds can quickly develop into large cumulonimbus clouds associated with powerful thunderstorms known as supercells.
---