Lifting Due To Topography
produces orographic clouds
When air is confronted by a mountain, it is lifted up and over the mountain, cooling as it rises. If the air cools to its saturation point, the water vapor condenses and a cloud forms.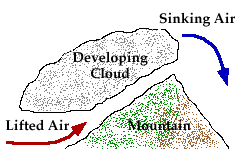 These types of clouds are called "orographic clouds", which develop in response to lifting forced by the topography the earth.

Photograph by: Holle
The exact type of cloud that develops depends upon the moisture content and stability of the air.
---
| | | |
| --- | --- | --- |
| convergence | | fronts |