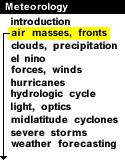 .
Cold Front
transition zone from warm air to cold air
A cold front is defined as the transition zone where a cold air mass is replacing a warmer air mass. Cold fronts generally move from northwest to southeast. The air behind a cold front is noticeably colder and drier than the air ahead of it. When a cold front passes through, temperatures can drop more than 15 degrees within the first hour.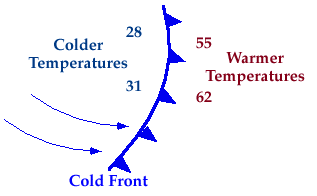 Symbolically, a cold front is represented by a solid line with triangles along the front pointing towards the warmer air and in the direction of movement. On colored weather maps, a cold front is drawn with a solid blue line.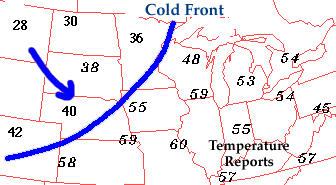 There is typically a noticeable temperature change from one side of a cold front to the other. In the map of surface temperatures below, the station east of the front reported a temperature of 55 degrees Fahrenheit while a short distance behind the front, the temperature decreased to 38 degrees. An abrupt temperature change over a short distance is a good indicator that a front is located somewhere in between.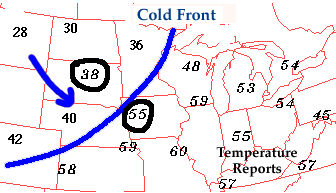 If colder air is replacing warmer air, then the front should be analyzed as a cold front. On the other hand, if warmer air is replacing cold air, then the front should be analyzed as a warm front. Common characteristics associated with cold fronts have been listed in the table below.
| | | | | | | |
| --- | --- | --- | --- | --- | --- | --- |
| | | Before Passing | | While Passing | | After Passing |
| Winds | | south-southwest | | gusty; shifting | | west-northwest |
| Temperature | | warm | | sudden drop | | steadily dropping |
| Pressure | | falling steadily | | minimum, then sharp rise | | rising steadily |
| Clouds | | increasing: Ci, Cs and Cb | | Cb | | Cu |
| Precipitation | | short period of showers | | heavy rains, sometimes with hail, thunder and lightning | | showers then clearing |
| Visibility | | fair to poor in haze | | poor, followed by improving | | good, except in showers |
| Dew Point | | high; remains steady | | sharp drop | | lowering |
Table adapted from: Ahrens, (1994)
---
| | | |
| --- | --- | --- |
| Fronts | | wind shift |